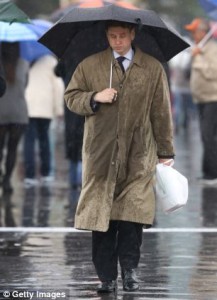 On this dreadfully dreary day in Boston I can only think of all you guys heading off to your corporate jobs.  As the lot of you crowd together on the
T
or exit your
Uber
you typically fall into one of two categories.  The guys dressed to kill and the guys dressed to shrill.  Either way you are fully suited and need that armor to help you attack the day.  There are the veterans out there who come fully loaded.  Striding the streets in their wing tipped cordovans, a classic gabardine trench coat, perhaps a a fedora if they really want to pull off their
Don Draperesque
ensemble, gripping their trusty umbrella with confidence.  As they walk down the street, they glance over at the newbies drenched as they set foot into the office and remembering their own days of ill fitting suits and cheap quality fabrics sopping wet, sticking to their skin.  How the whole day brought them spiraling into a negative unproductive mood.
Does this sound painfully familiar?  Well, have no fear guys, a solution is here.  You may not have heard but there's a new suit game in town.  
Indochino
.  Just over three weeks ago they set up shop on Newbury Street and have been measuring and making bespoke suits for hip gents like you.  Customized for exactly your lifestyle, Indochino has suits, tuxedos, and shirts to make your work-hard-play-hard life much simpler.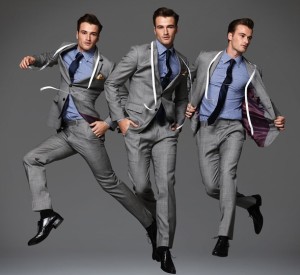 For under $1000 you can have an outfit made entirely to your body measurements ready to wear in about 6 weeks (final tailoring included).  What is most magical of all is their water, stain, and oil resistant
Indotech
suits made from super 100 merino wool.  You read that right, guys! A custom suit that resists water, stains, and oil under $1000 made of 100% natural fiber.  In wild weather New England, if that alone isn't a reason to sing in the rain then I don't know what is.  Purchase an Indochino suit before August 30th and receive a free wrinkle-free shirt (valued at $79). The suit game in Boston officially just got raised up a notch.