Recently I came across an article in Who What Wear by Nicole Akhtarzad Where Every It Girl Buys Her Ankle Boots it got me thinking about celebrities and access.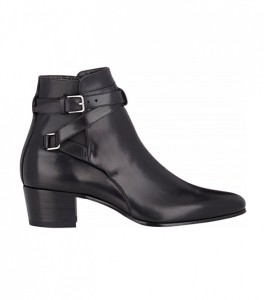 "It Girls" have the opportunity to wear any brand they want; their access to variety far surpasses us "Regular Girls."  Living in Boston, Saint Laurent is as common as a Goyard bag.  If the "common folk" already are on the Saint Laurent bandwagon shouldn't "It Girls" be the ones showcasing designers whose artistry is more than just shoes of the moment?  Shoes that break the mold, that takes us to the next level, that set us apart from the crowd instead of trying to make us blend in?  If I am going to save my last Sunday-Funday buck on a pair of thousand dollar booties you better believe they won't be strapped to every other pair of puppies strutting down Newbury St.
Personally I have yet to be struck by the Saint Laurent love bug.  Something about the transformation from classic YSL to the trendy-norm core-edgy Saint Laurent feels detached.   For me, it no longer possesses that effortless chic sex appeal of the days of Yves.  Perhaps it's the multiple personality disorder happening within branding.  While some products still adorn the YSL logo they come neatly packed in a black Saint Laurent box.  Call me a hopeless fashion romantic but I still am holding on to the Le Smoking until the end of time.  For this I just can't jump aboard the Saint Laurent ship.
That being said, feast your eyes on my top ten booties of the moment.  If I were an "It Girl," my choice of booties would be Laurence Decade. Decade's precision of evoking emotional responses from a single pair of shoes is remarkable.  Sexy, feminine, funky and rocker chic are the essential attributes that exude from each one of her creations.  As a major fan of the 90's, where the 70's were revived I find Decades nods to that strong female empowering era decadently understated.  This seems like quite the oxymoron when you think prints, fringe, brocades and mixed media yet somehow Laurence executes each one effortlessly and tastefully. Decade believes "the shoe is not only an object of walking but experimental tool of freedom."  I say let freedom ring, break the mold and walk tall in a bootie built for individuals not conformists.