Today most American's were typing their poor little digits to death; trying to snatch the hottest holiday deals while avoiding their bosses or going cross-eyed. If I told you that I spent not one penny online today even though it was my day off you might think that I was crazy. But I think I am one of the few experiential shoppers left in this world. I can honestly say I haven't purchased anything from a catalogue or the web since I was in the 8th grade. I once bought some things from Victoria Secrets and Delia*s and when they didn't turn out the way I had expected I really lost that joy I experienced when the UPS guy delivered my package. Sure I returned it but it created a lousy connotation with shopping for me and since then I never wanted to try again. I truly love the hunt for unique, high quality items and having the "I found it" moment you get from a treasure hunt. And I would say today's bounty is as good as gold!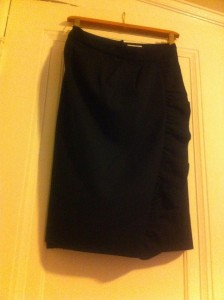 Towards the end of the summer I brought some "I'm over it" items from my closet to my favorite consigners, DC Consignments in Dedham, Ma. I truly had no intention of purchasing anything but I frequently find myself "just looking" whenever I get a chance to shop. First item I found was a high waisted black Kate Spade knee length skirt with a tulip edged flap almost like a wrap skirt but not. My job requires me to wear all black so this versatile piece was an absolute yes at $21.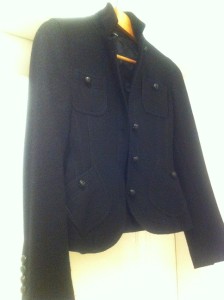 Then my eyes wandered over to the designer rack and I saw a black wool jacket with leather woven buttons between a military and riding style both my kind of looks. When I looked inside I saw my size and the Bally logo, then I saw the price — under $120!! I crossed my fingers and brought it to the dressing room. To my absolute delight a perfect fit; which is always a challenge for me (a petite size 2-4 with broad gymnast shoulders.)
Now I thought I couldn't do any better than that as I was merely eyeing the designer handbag shelf, but there it was in all its splendor. My high school crush…. the Christian Dior Denim Saddle Bag. I began to reminisce, sophomore year my parents took me to California for the first time. We went to Rodeo Drive and visited all my favorite designers, Dior ranked high on that list. I drooled over this bag for quite some time; I'd say it was the beginning of my love affair for designer handbags. As I returned to present day reality, I asked to "just see it" and realized it was in pristine condition and under $200. I immediately began my version of a "Touch-down" dance in the store.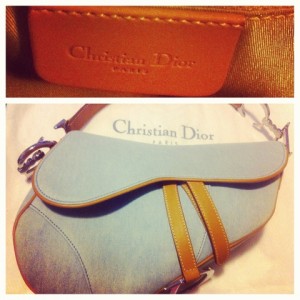 With all my consigned clothing and a discount for shopping after consigning my grand total came to roughly $160. I'd have to say there couldn't be anyone else who got a better deal than I did today which validates my experiential shopping theory. Sorry online fashion retailers, better luck getting my buck next year but don't hold your breath. #Christmascameearly!