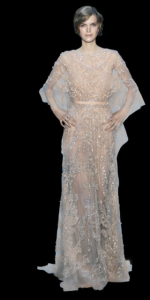 I've been noticing a steady surge of dress emergencies over the last few years. If every brother's best friend's neighbor's college roommate isn't getting married, the amount of formal events have definitely sped up to lightning speed. I've always felt like retailers are consistently underestimating the amount of partying that average American's are actually doing (or at least North East buyers). Finding a "WOW"-factor dress is constantly a challenge, and with Facebook tracking your every outfitted move it can make your stress level rise a few hundred notches. Especially now as we approach the ever nearing ball drop girls worldwide are hunting for that perfect dress to make them feel Hollywood glamorous on New Years Eve. 2011 was a big year for beading and sequence so there's no surprise that on New Years Eve there will be an abundance of it. Now if you can afford exquisitely crafted glamour there truly is only one man who will make your fantasies a reality. Elie Saab has a miraculous way of turning ethereal dreams into real life works of walking art. If you have never seen his work I must say please take a moment and visit his website. Although I will warn you now you may get sucked in to a vortex for an hour or more wide-eyed and dumbfounded as your gaze is locked on these elegantly seductive gowns that ooze glamour. Elie Saab is a self-taught Lebanese designer. He understands the true beauty of a woman's figure and emphasizes each part with the utmost precision.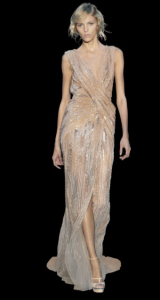 This was one of my favorites of his Fall Winter 2011-2012 Collection.  The front is almost tough in an extremely elegant way and then as you turn around that exposed back just knocks you out.
No other beaded dress can hold a candle to this.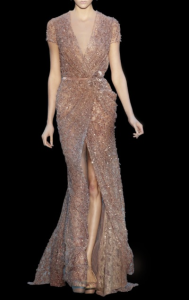 I love the caped feel of this dress.  It is truly an art to be covered with the illusion of nudity at the same time.
Elie Saab please open a store in the US! I don't know how long it will take me to get to Beirut but now I have another reason, just to visit your store and see these impeccably made masterpieces.
I implore you to visit